Canagan Senior Feast is a complete and balanced grain-free food with organic vegetables, fresh meat and chelated minerals; making a wholesome, tasty and nutritious meal for adult dogs. This recipe is totally grain free so is perfect if your dog is intolerant to wheat, corn or any other grains. We also leave out artificial colourings, preservatives, flavourings and sweeteners to keep things natural. Our ingredients are delivered fresh each day and cooked with love for our special friends.
6 x 400g Cans
The biologically appropriate ratio of meat to vegetables
65%
Nutritious Animal Ingredients
35%
Vegetables & Botanicals
DELIVERED FRESH EACH DAY AND COOKED WITH LOVE FOR OUR SPECIAL FRIENDS
Canagan is a special grain free dog food formulated by our experts to deliver nutrition, close to their ancestral diet, with the correct ratio of protein to carbohydrate and a host of vegetables and botanicals.
This carefully balanced, nutrient dense formula will excite your dog's taste buds and give them the abundance of highly digestible protein demanded by their evolutionary needs.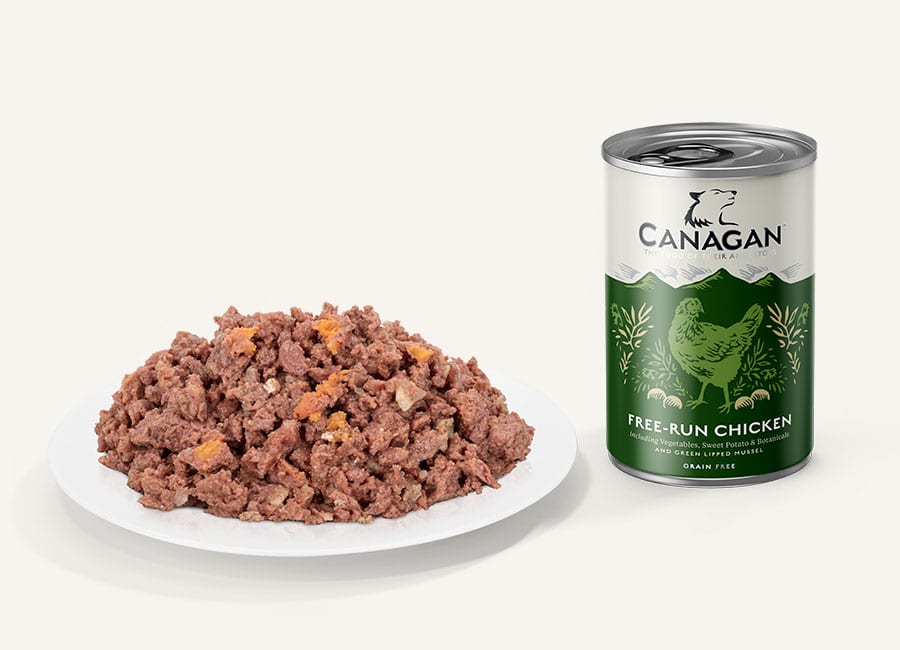 Nature's Best Ingredients
Composition
Freshly Prepared Deboned Free-Run Chicken (40%), Freshly Prepared Deboned Turkey (20%), Sweet Potato, Organic Carrots, Organic Peas, Parsley, Cranberry, Organic Broccoli, Vitamins & Minerals, Green Lipped Mussel, Salmon Oil, Seaweed, Milk Thistle, Organic Apple, Organic Spinach, Glucosamine (1,000 mg/kg), Chondroitin (1,000 mg/kg), Rosehips, Nettle, Marigold, Slippery Elm, Aniseed, Peppermint, Rosemary.
NUTRITIONAL ADDITIVES (PER KG)
Zinc sulphate monohydrate
15.0 mg
Manganese Sulphate
3.0 mg
Calcium iodate anhydrous
0.75 mg
Did You Know?
Our delicious dog cans contain meat and fish delivered fresh each day, complemented by a range of organic vegetables and green lipped mussel